VAGUS / PARA ESSENTIAL OIL BLEND Stress Support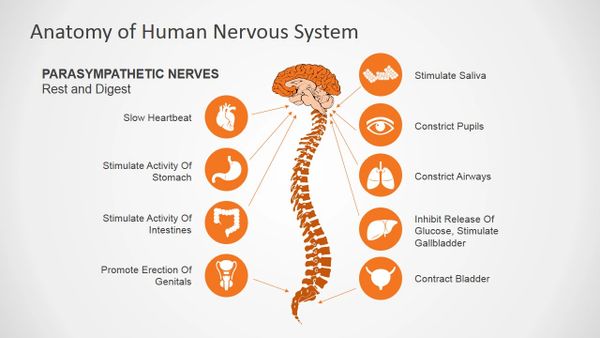 This oil can be helpful for supporting the parasympathetic nervous system which in turn helps to support the vagus nerve.
Of note as per diagram provided:  The parasympathetic system inhibits release of glucose... hence when this system is stressed or not working properly it can contribute to diabetes type 2.
The parasympathetic nervous system constricts pupils, causes salivation, slows down the heart rate, tightens the bronchi in the lungs, enacts digestion, releases bile & makes the bladder contract.   The vagus nerve:  An estimated 75 percent of all parasympathetic nerve fibers in the body come from this nerve.  This nerve branches in many key organs, including the stomach, kidneys, liver, pancreas, gallbaldder, bladder, anal sphinctr, vagina & penis.  
To use:  Rub drops behind each ear and down spine at nape of neck.  1-2 x day as needed
SIzes available:
5 ml   15 ml   1 oz   2 oz &  5 ml roller bottle or 10 ml roller bottle
Ingredients: Lime, Clove, Juniper, Rosemary, Copiaba, & Chamomile essential oils  Grapeseed oil is the carrier oil used


 All our herbal tinctures are handmade & hand infused. Blends including essential oils are recipes developed by holistic practitioner Michelle Miller.   Herbs used are either organic or wild harvested.  We are a small home based business committed to quality.  I am also a holistic practitioner who helps & teaches people how to get healthy using solely natural means.  From the simplest of diseases to the most complex, we can help.  Our contact information is available on the contact us page.
Facebook Educational Group:  https://www.facebook.com/groups/12foru/
**As per FDA guidelines not intended to treat or cure any disease or ailment.  Essential oils are recommended to be used externally as per the FDA**  PLEASE BE SURE TO READ FULL DISCLAIMER UNDER THE "DISCLAIMER" TAB