SUPER ELDERBERRY SYRUP Unique recipe Frankincense Orange Lemon Clove Ginger Honey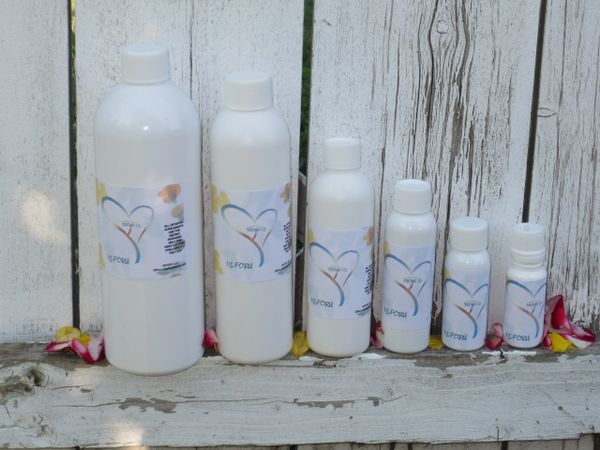 Super Elderberry Syrup:  Our elderberry syrup is a very unique recipe that cannot be found anywhere else.  It is a special blend of elderberries, goji berries, Frankincense Orange, Lemon & Grapefruit peel, Clove, Cinnamon, & Ginger Root infused into distilled water.  Once infused has cooled Raw unpasteurized honey is added for added healing / immune boosting benefits.
Elderberry is used for its highly prized antioxidant activity to lower cholesterol, improve vision, boost the immune system, improve heart health and for coughs, colds, flu, bacterial and viral infections and tonsillitis. Elderberry juice was used to treat a flu epidemic in Panama in 1995. Bioflavonoids and other proteins in the juice of elderberries & goji berries destroy the ability of cold and flu viruses to infect a cell.
At the Bundesforschungsanstalt research center for food in Karlsruhe, Germany, scientists conducting studies on Elderberry showed that elderberry anthocyanins enhance immune function by boosting the production of cytokines. These unique proteins act as messengers in the immune system to help regulate immune response, thus helping to defend the body against disease. Further research indicated that anthocyanins found in elderberries possess appreciably more antioxidant capacity than either vitamin E or vitamin C In Israel, Hasassah's Oncology Lab has determined that elderberry stimulates the body's immune system and they are treating cancer and AIDS patients with it. The wide range of medical benefits (from flu and colds to debilitating asthma, diabetes, and weight loss) is probably due to the enhancement of each individual's immune system.
Frankincense Resin: Strengthens and activates the immune system, prevents/helps microbial infection (fever, food poisoning, cough, cold, mumps, measles, chicken pox etc.) Protects against coughs and colds (viral infections), provides relief from mucus and phlegm, eases congestion, breathing trouble, etc. Works as a fungicide and stimulates blood circulation, digestion and nerves, increases sweat to purify body. promotes regeneration of healthy cells and keeps existing cells and tissues health. strengthens absorption of nutrients in the body & strengthens all the systems operating in the body: respiratory, digestive, nervous and excretory systems
Orange, Lemon, & Grapefruit Peel: Citrus peels contain high levels of antioxidants. As antioxidants, citrus peels may contribute to the protection of your DNA from cancer-causing damage. According to Medicinal Herbs & Spices, citrus peels contain greater amounts of antioxidants than vitamin E. When used in their natural form, the antioxidant effects of citrus peels are enhanced by the high levels of vitamin C found in citrus fruit
Clove: Minerals in cloves include calcium, iron, magnesium, phosphorous, potassium, sodium, and zinc. The vitamins found in cloves include vitamin C, thiamin, riboflavin, niacin, folate, vitamin B6, vitamin B12, vitamin A, vitamin E, vitamin D, and vitamin K. Cloves aid in digestion, having antimicrobial properties, fighting against cancer, protecting the liver, boosting the immune system, controlling diabetes, preserving bone quality, and containing anti-mutagenic properties
Cinnamon: Health benefits of cinnamon include its ability to help manage diabetes, protect against fungal and bacterial infections, increase brain function, prevent certain cognitive disorders, improve digestion, boost the strength of the immune system.
Ginger: Research has shown that ginger root and its oil are also effective against nausea, motion sickness and vomiting. Since ginger root is a good expectorant, and it is effective in treating various respiratory problems such as cold, cough, flu, asthma, bronchitis and breathlessness. Ginger is very effective in removing mucus from the throat and lungs. The health benefits of honey and ginger in treating respiratory problems is well known.
Raw Honey: Raw honey contains antioxidants called phenolic compounds. Some types of honey have as many antioxidants as fruits and vegetables. Antioxidants help to protect your body from cell damage due to free radicals. Phytonutrients provide both antioxidant and anti-inflammatory benefits, which help you maintain good health. Because honey is made from plants, it also has phytonutrients. Raw honey can kill unwanted bacteria and fungus. It naturally contains hydrogen peroxide, an antiseptic. Research shows that honey is as effective as dextromethorphan, a common over-the-counter cough medicine ingredient, in treating a cough
All of our herbal tinctures are handmade & hand infused. Blends are recipes developed by holistic practitioner Michelle Miller.   Herbs used are either organic or wild harvested.  We are a small home based business committed to quality.  I am also a holistic practitioner who helps & teaches people how to get healthy using solely natural means.  From the simplest of diseases to the most complex, we can help.  Our contact information is available on the contact us page.

Facebook Educational Group:  https://www.facebook.com/groups/12foru/

***As per FDA gudelines:  None of these products are intended to treat, diagnose, treat, or cure disease.  

For maintenance as a dietary supplement : 1-2 teaspoons daily
For acute illness as a dietary supplement: 1 teaspoon 4-6 X daily & as needed