Sulfur Powder Edema Arthritis Inflammation Diabetes Hair Nails Anti Aging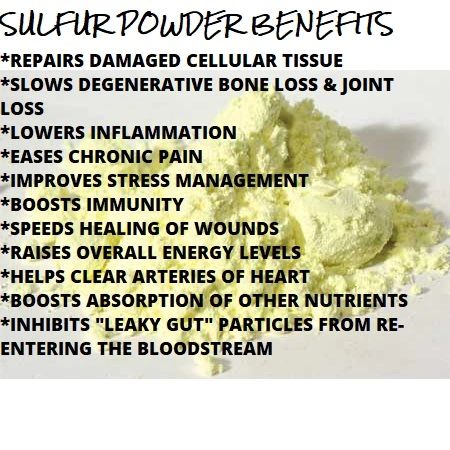 Sizes available:  4 oz, 8 oz, 16 oz, 3 lb, 5 lb

Some of the many benefits of organic Sulfur include: 
Increasing enzyme production within the bodies gland and improving resistance to illness




Increasing flexability in muscle tissue




Increasing blood circulation




Can help to decrease edma or swelling of feet, legs, hands, arms etc.

Reducing muscle inflammation and increasing muscle healing




Promotes healhy growth of hair and fingernails




Discourages growth of cancer cells through oxygenation




Can reverse osteoporosis, Alzheimers & Parkinsons Disease




Promoted healthy skin production and reduces wrinkles




Helps to regulate insulin production

 colonic parasites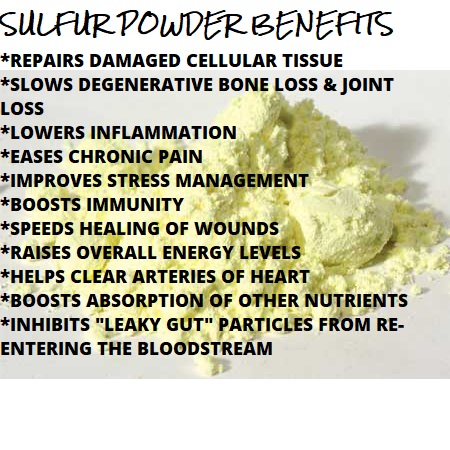 **AS PER FDA:  For External Use Only**


The majority of our herbal tinctures & products are handmade & hand infused.  Blends are recipes developed by a holistic practitioner of 16 years & former Registered Nurse of over 18 years.    Herbs used are either organic or wild harvested.  We are a small home based business committed to quality.  We also offer holistic education & protocols to people, to teach how to get healthy using solely natural means.  From the simplest of diseases to the most complex, we can help.  Our contact information is available on the contact us page.

Facebook Educational Group:  https://www.facebook.com/groups/12foru/