Serrazimes ® / Serrapeptase 20,000 units Food based Fibrin Inflammation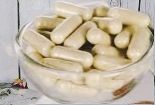 ITEM LISTED FOR YOUR CONVENIENCE AND IS NOT PRODUCED BY 12FORU.
Suggested Use:

As a dietary supplement, take one veggie capsule two times per day with water on an empty stomach, at least two hours before or after a meal. For maximum benefit, take two veggie capsules two times per day
This will come in the original bottle
Overview
Serrazimes® is a patented blend of proteolytic (protein-breaking) enzymes made by the National Enzyme Company. It is similar to serrapeptase – an enzyme found in silkworms that they use to dissolve their cocoons.
Also known as serrapeptidase, serrapeptase has undergone extensive clinical research, suggesting that it is a potent anti-inflammatory compound with particular usefulness in the realms of immune, respiratory, joint, and cardiovascular health. Serrapeptase has been used as a dietary supplement for over 30 years, particularly in Japan.
Serrapeptase is not manufactured in the United States due to some safety concerns over its bacterial origin. As a result, Serrazimes® was created as an alternative to serrapeptase, and uses a different source – the edible fungi Aspergillus melleus and Aspergillus oryzae. Serrazimes® has been demonstrated to have the same proteolytic activity (potency) as serrapeptase, but also has the advantage of stronger anti-inflammatory effects.
Serrazimes® works by breaking down or reducing the activity of various types of proteins involved in blood coagulation, immune function, and more. These effects may:
Reduce inflammation
Help remove mucus and drain fluid
Inhibit the formation of blood clots and plaque in blood vessels
Counter the growth of bacteria
In addition, it can also be used to improve the digestion of dietary protein and related digestive disorders.
Source:  https://supplementsinreview.com/brand/serrazimes/