REMINERALIZING TOOTHPASTE SENSITIVE TEETH Fluoride Free Healing Children Adult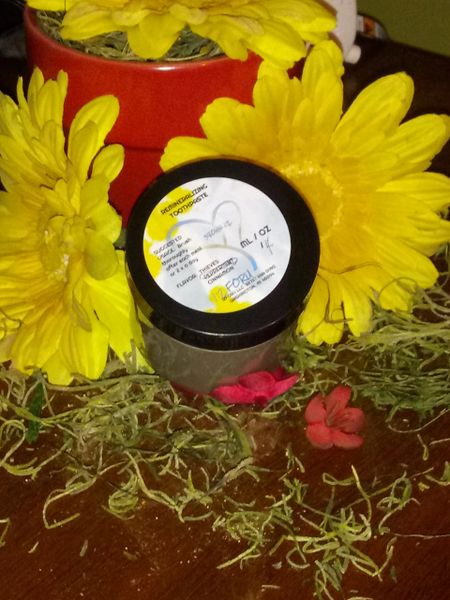 A special blend of ingredients to help truly clean teeth but also may help to heal & remineralize teeth.  No fluoride or harmful ingredients found in this toothpaste.
Ingredients:  Bentonite Clay, Trace Minerals, Magnesium powder, Calcium Ascorbate, Coconut oil, Xylitol Powder, Baking Soda, Boron & Therapeutic Grade Essential oils for flavor & added healing benefits.  
Children do well with the 6Thieves (Orange)
Available in :  Peppermint, 6Thieves (Orange)
NOW AVAILABLE IN BULK 21 oz mason jar.   This can be made into other flavors than listed please use contact form to order flavor.  
Other Flavors available for bulk 21 oz:  Mixed Berry, Apple, Peach, Cinnamon, Spearmint, Anise
***DISCLAIMER:  The name of the toothpaste and mouthwash in no way indicates any type of guarantee of remineralizing

The majority of our herbal tinctures & products are handmade & hand infused. Blends are recipes developed by holistic practitioner Michelle Miller.   Herbs used are either organic or wild harvested.  We are a small home based business committed to quality.  I am also a holistic practitioner who helps & teaches people how to get healthy using solely natural means.  From the simplest of diseases to the most complex, we can help.  Our contact information is available on the contact us page.

Facebook Educational Group:  https://www.facebook.com/groups/12foru/