Liposomal Vitamin C LIPO C Whole Food Cancer Colds Flu Adrenal NO OTHER RECIPE LIKE IT!!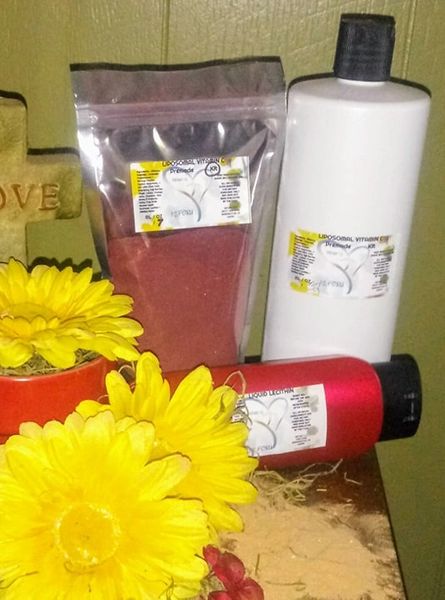 Available in Premade: 4 oz sample size,  8 oz,  16 oz , 32 oz ,64 oz or Gallon sizes... 
Kits: are available up to 2 gallons. 
Also available as a powder only for encapsulation or you may source your own lecithin for the kit.  
12foru LIPO C is also a good source of other nutrients such as VITAMIN A which is has also shown to be good for measles prevention
 CORIANDER
CCoriander seeds possess many plant-derived compounds that are known to have antioxidant, disease preventing, and health promoting properties
CCoriander seed provides not only vitamin c but also provides:
Niacin, Riboflavin (B2), Thiamine (B1), minerals like iron, copper, calcium, potassium, manganese, zinc and magnesium
RROSE HIPS
RRose hips are a good source of Vitamins A, E, & K:  Since these vitamins are fat soluble, the  absorption is boosted significantly with the 12foru liposomal form.
RRose hips are also a good source of manganese and fibre, along with calcium, magnesium, potassium, and lycopene.
HHIBISCUS
HHibiscus are a good source of Vitamins A, Thiamine (B-1), Riboflavin (B2), Folate (B9).
HHibiscus is also a good source of potassium, Iron, Phosphorus, Calcium, Magnesium, Zinc & Copper
Elderberry powder is a good source of: Vitamins A, B1, B2, B6, and E.
It is also a good source of Linoleic Acid, Amino Acids & many trace minerals including Calcium, Zinc, Copper, Iron, Selenium, Phosphorus
H
***Please use the contact form for information on pricing for larger quantities
THIS ALSO COMES IN PREMEASURED DO IT YOURSELF MONEY SAVING KITS  32 oz, 64 oz, or 1 & 2 gallon sizes
Ingredients: 
Hibiscus Powder, Coriander Powder, Rose Hips Powder, &
, Calcium ascorbate in a small amount which is shown to help alkalize the blood & help with chelating heavy metals.  Red Bell pepper powder & Goji berry powder Sugar from cane with minerals left intact.   Non GMO food sourced Citric Acid for flavor, Non GMO Sunflower Lecithin, 
Distilled water & Gluten free ethanol.  Natural Flavors (organic)
Customer Testimony: "
this stuff is INCREDIBLE !! The feeling of being human again is ridiculous....
I under went Dental extraction of my 11 mercury fillings back in 2010 with an incredible dentist Dr Munro Hall whose detox is intravenous high dose vitamin c (70 grams)
After my treatment I could have climbed Everest !!
I feel I might explode with good health with your Lipo
somal  C ........I will do all that it takes to get more of your incredible potion...""
What makes our Lipsomal Vitamin c different?
We use only non gmo Calcium Ascorbate  

Coriander Myrrh Hibiscus Rosehips Elderberry & Goji Berry wildcrafted or organic powders. 

IF YOU ARE currently receiving Bee Venom Therapy This meets the criteria.  NO SEPARATE PRODUCT IS NEEDED 

We use a small amount of grain alcohol for much better absorption and to properly facilitate liposomes

We use non gmo liposomes in the form of liquid sunflower lecithin

We use a 3 day process to ensure a quality product.  

Their ingredients:  Sodium Ascorbate,

, sunflower lecithin, sunflower oil, oleic acid polyglyceride, ascorbyl palmitate, natural flavors, xanthan gum, ascorbic acid, mixed tocopherols, oil soluble rosmarinic acid, water soluble rosmarinic acid, potassium sorbate, purified water

Our ingredients:   Hibiscus Powder, Coriander Powder, Rose Hips Powder, Elderberry Powder, Goji Berry Powdere & Myrrh

Powder, Calcium ascorbate in a small amount which is shown to help alkalize the blood & help with chelating heavy metals.   

 non gmo food sourced Citric Acid for flavor Non GMO Organic sunflower Lecithin, Super elderberry syrup (handmade organic / wild crafted Elderberry powder, goji berry powder, cinnamon, clove, and ginger for taste as a spice only)   

Distilled water & Gluten free ethanol
Why take Lipsomal Vitamin C?
MAY HELP:
Ascorbate aids in the maintenance of cellular membranes, cellular respiration, the peroxidase cleansing system, the restoration of vitamin E /selenomethionine complexes, and sulfhydryl enzymes such as glutathione synthetase, thereby helping to detoxify various drugs and chemicals.

Calcium Ascorbate has shown in studies to help alkalize the blood and is from natural sources not synthetic

Scurvy resistance: improved blood vessel and cardiovascular integrity
Enhance hormone healthy and reduces hormone unhealthy actions

Enhance neurotransmitter functions healthy and reduces unhealthy actions

Promote immune system healthy and reduces unhealthy actions

Enhance nitrous oxide (NO) functions

Enhance and repair detoxification functions

Enhance ATP energy compound production

Enhance healthy bone formation

Enhance and rebuilds glutathione functions

Promote iron balance [uptake and release]

Reduce bioaccumulation of toxins

Protect DNA from oxidative damage

Reduce toxic heavy metals in body

Enhance natural anti-cancer surveillance
The majority of our herbal tinctures & products are handmade & hand infused.  Blends are recipes developed by a holistic practitioner of 16 years & former Registered Nurse of over 18 years.    Herbs used are either organic or wild harvested.  We are a small home based business committed to quality.  We also offer holistic education & protocols to people, to teach how to get healthy using solely natural means.  From the simplest of diseases to the most complex, we can help.  Our contact information is available on the contact us page.

Facebook Educational Group:  https://www.facebook.com/groups/12foru/
***As per FDA gudelines:  None of these products are intended to treat, diagnose, treat, or cure disease.