IODINE LUGOL'S 5% PROTOCOL KIT 1 MONTH OR 3 MONTH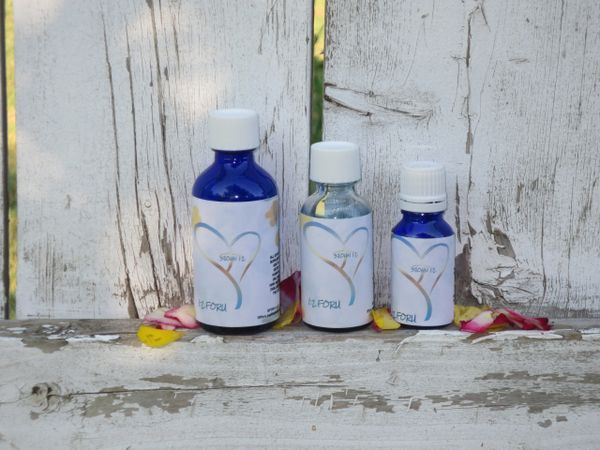 This is a 5% solution of the traditional Lugol's iodine solution.  Solution is a mixture of Iodine & Potassium Iodide dissolved into distilled water.   Lugol's Iodine, also known as Lugol's Solution, first made in 1829, is a solution of elemental iodine and potassium iodide in water, named after the French physician who discovered it J.G.A. Lugol. Also included in this package are supplements recommended to be taken in conjunction with iodine to have good success with supplementation.  
Included in 1 month kit:                                                         
1/4 lb sea salt  Himalayan Pink Sea Salt                               
4 oz Bee Pollen for B vitamins & Zinc                                     
4 oz Magna Mag a hol Spray / oral  
1/4 lb Yellow Sulfur powder                       
(30)  Food grade Selenomethionine    (Selenium)    
(30) Rosehips Capsules                                                        
1 oz Lugol's Iodine 5%   OR 1 oz LIPOSOMAL Lugols Iodine                                                                                                                                                        
**DELUXE KIT WILL INCLUDE : (1) 32 oz premade LIPO C                           
.                                                                                                                                         
 1 lb Himalayan Pink sea salt
8 oz Bee Pollen for B vitamins & Zinc
8 oz Magna Mag a hol Spray / Oral 
(90) Food grade Selenomethionine (Selenium) 
(90) Rosehips Capsules
3 oz Lugol's Iodine 5%sent in 1 oz bottles  OR 4 oz LIPOSOMAL Lugols Iodine
**DELUXE KIT: (1) 32 oz premade LIPO C & (1) LIPO C kit
***LIPO C liposomal Vitamin C is available as an option with each kit for an extra cost.  LIPO c is the recommended form 
Excerpt from the book Folk Medicine by Dr. D.C. Jarvis
FOLK MEDICINE IN VERMONT is interested in three R's-Resistance, Repair, and Recovery. First the individual asks himself whether his resistance to disease is as it should be. Next, is he able to repair tissue injury due to accident should it occur? Finally, if sickness should come, is his body able to bring about recovery? Somehow during the passing years he has learned that iodine is related to the ability to resist disease. 
Iodine is necessary for the thyroid gland's proper performance of its work. The human thyroid gland is located in the front of the lower part of the neck. All the blood in the body passes through the thyroid gland every 17 minutes. Because the cells making up this gland have an affinity for iodine, during this 17-minute passage the gland's secretion of iodine  kills weak germs that may have gained entry into the blood through an injury to the skin, the lining of nose or throat, or through absorption of food from the digestive tract. Strong, virulent germs are rendered weaker during their passage through the thyroid gland. With each 17 minutes that rolls around they are made still weaker until finally they are killed if the gland has its normal supply of iodine. If it does not, it cannot kill harmful germs circulating in the blood as Nature intended it should.
It is well established that the iodine content of the thyroid gland is dependent upon the iodine available in the food and water intake of the individual. If the iodine intake is low the gland is deprived of an element it needs to do its work.
We learn in Vermont folk medicine, however, that this gland performs other functions besides killing harmful germs in the blood. The first is the rebuilding of energy with which to do the day's work. There is a definite relationship be-tween the amount of energy you have and your iodine intake. The first question in the presence of a condition of depleted energy is, Is the soil of the state in which one lives iodine-poor? Second, is the deficiency being made up by supple-mentary means? All soils containing granite are iodine-poor and Vermont is one of them. This fact is very important to people living in Vermont and well may be important to those living elsewhere. When energy and endurance run low in relation to doing the day's work, then the taking of iodine needs to be considered.
A second function of iodine is to calm the body and relieve nervous tension. When nervous tension runs high there is irritability and difficulty in sleeping well at night, and the body is continually on a combat basis, organized for fight and flight. All these points stress a body's need for iodine to lessen nervous tension, relax the body and enable it to or-ganize for peace and quiet, by the building and storing of body reserves against time of need. I have learned through Vermont folk medicine that it is possible to repeatedly change an irritable, impatient, and restless child under ten years of age into a calm, patient individual within two hours' time by giving one drop of Lugol's solution of iodine by mouth in a vegetable or fruit juice or in a glass of water made acid in reaction by adding a teaspoonful of apple cider vinegar. I have repeatedly prescribed this in order to make it possible for a mother of a racehorse-type little boy or girl to be able to live comfortably with the child. I have never seen it fail to calm down a nervous child.
A third function of iodine in the human body relates to clear thinking. The mind simply works better when the body is supplied the iodine it needs. 
Then there is the matter of the storing of unwanted fat. Iodine is one of the best oxidizing catalysts we have. A catalyst is the match which touches off in the body the fire that burns up the food we take in each day. If this food is not properly burned off, it may be stored as unwanted fat.
Now while the thyroid gland helpfully stores iodine from the blood passing through it every 17 minutes, the gland may also be made to lose that stored iodine if, for example, we take in drinking water to which chlorine is added, or use too much sodium chloride, whose common name is table salt. There is a well-known law of halogen displacement. The halogen group is made up as follows:
                                                         Relative 
Halogen                                     Atomic Weight 
Fluorine               19. 
Chlorine                                              35.5 
Bromine                                              80. 
Iodine                                                127.
The critical activity of any one of these four halogens is in inverse proportion to its atomic weight. This means that any one of the four can displace the element with a higher atomic weight, but cannot displace an element with a lower atomic weight. For example, fluorine can displace chlorine, bromine and iodine because fluorine has a lower atomic weight than the other three. Similarly, chlorine can displace bromine and iodine because they both have a higher atomic weight. Likewise, bromine can displace iodine from the body because iodine has a higher atomic weight. But a reverse order is not possible. A knowledge of this well-known chemical law brings us to a consideration of the addition of chlorine & fluoride to our drinking water as a purifying agent. We secure a drinking water that is harmful to the body not because of its harmful germ content but because the chlorine and fluoride content now causes the body to lose the much-needed iodine.  Bromide is of particular concern as it is found in flame retardant chemicals sprayed on furniture, clothing, carpeting, new car interiors.  Also found in flour so found in many many common baked goods.  
The majority of our herbal tinctures & products are handmade & hand infused.  Blends are recipes developed by a holistic practitioner of 16 years & former Registered Nurse of over 18 years.    Herbs used are either organic or wild harvested.  We are a small home based business committed to quality.  We also offer holistic education & protocols to people, to teach how to get healthy using solely natural means.  From the simplest of diseases to the most complex, we can help.  Our contact information is available on the contact us page.

Facebook Educational Group:  https://www.facebook.com/groups/12foru/