EMF Shungite RADIATION PHONE protector Stick to back of phone 3/4 " x 1/2 "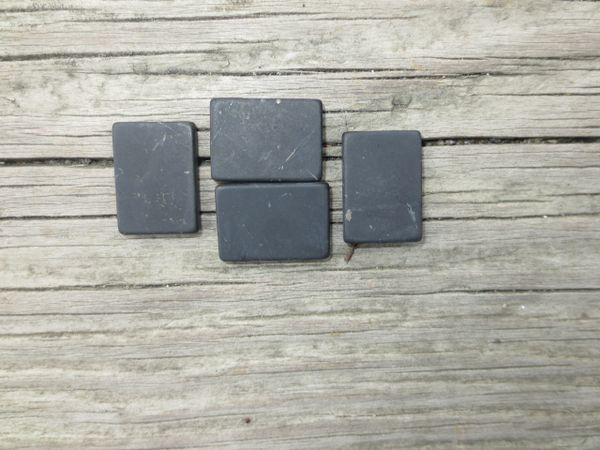 NOTE: THIS ITEM MAY SHOW SOME SLIGHT SCRATCHES DUE TO IT BEING UNPOLISHED THIS IS NORMAL AND IN NO WAY AFFECTS THE INTENDED USAGE.   RAW SHUNGITE IS BEST FOR EMF ABSORBING
This is a special order item and may take 2-4 weeks to receive.  If other items are ordered those will be sent first.  
****.50 each piece of jewelry and phone protector will be donated to BRANCH ANEW which helps trafficking survivors recover
Shungite has shown to absorb EMF radiation.  12foru members are all using these for their phones and have found marked differences when handling their phones, which is why we have decided to offer them.  

The main benefit of this stone is as am EMF absorber to help block EMF from the body by absorbing it
WHAT IS EMF radiation?: http://www.best-emf-health.com/what-is-emf.html
Shungite MAY:
• act as a natural antioxidant that can increase human immunity with regards to many serious illnesses and suppress the development of many allergic diseases;
• purifies air and water from many organic and inorganic compounds and from excess of free radicals; (stones my be added to water for purifying effect in the body

• absorptive activity, the ability to absorb substances from the environment; 
• bactericidal action;
• high level of adhesion, the ability to connect with any substance;
• anti-inflammatory and antihistaminic effects;
• radio shield properties;
• electroconductivity;
• ability to absorb oxygen, actively interact with it at the room temperature in water and in the air.

Individual results will vary and no "health" claims are being made with this or any other of 12foru products as per FDA guidelines
  The majority of our herbal tinctures & products are handmade & hand infused.  Blends are recipes developed by a holistic practitioner of 16 years & former Registered Nurse of over 18 years.    Herbs used are either organic or wild harvested.  We are a small home based business committed to quality.  We also offer holistic education & protocols to people, to teach how to get healthy using solely natural means.  From the simplest of diseases to the most complex, we can help.  Our contact information is available on the contact us page.

Facebook Educational Group:  https://www.facebook.com/groups/12foru/