DETOX BATH Kit BULK Everything you need for detox baths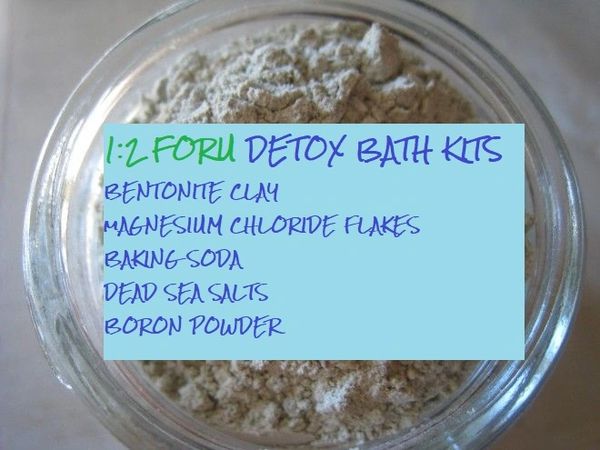 This is all the ingredients for the detox baths in bulk
What's in the kit: (Sizes depend on size of kit chosen)

Dead Sea salts  
Baking Soda  
Boron Powder  
Bentonite Clay  
Magnesium Flakes 
Soak for as long as you wish.  Finish by rinsing yourself with a cool shower for 5 minutes to wash away all excreted body toxins, clay, and to close the pores of your skin.  Please follow up with at least 2 glass of filtered water in the hours following.
Dead Sea Salts:  These are recommended over epsom salts, magnesium flakes & pink sea salt  Due to the high concentration of minerals and lower concentration of sodium this sea salt is most beneficial.  It has shown in studies to possibly help relieve all types of pain in particular rheumatoid.   It helps with the following: Pain of all types,  Rheumatism, all types of skin conditions, relieving water retention, allergies, anti aging, skin softening & smoothing, hair loss, &  relaxation. 
Baking soda – Something as simple as baking soda helps neutralize the chemicals in the water – primarily chlorine – as well as helping to increase mineral absorption. 
Borax / Boron -  Neutralizes fluoride & chlorine.  Also helps to balance ph in the body along with providing much needed boron for bone  / joint / cardiovascular health.   
Bentonite Clay – A naturally-forming clay which magnetically pulls toxins, heavy metals and wastes from the body. It will make the water look a bit muddy.
Magnesium Chloride Flakes - The symptoms of magnesium deficiency are so numerous that I recommend getting sufficient magnesium before doing anything else for your health. Magnesium deficiency is involved in many degenerative diseases and is needed for many processes in the body.   It is also recommended to use Magna Spray / Oral 1-2 x a day.  See the Magna spray document
The majority of our herbal tinctures & products are handmade & hand infused.  Blends are recipes developed by a holistic practitioner of 16 years & former Registered Nurse of over 18 years.    Herbs used are either organic or wild harvested.  We are a small home based business committed to quality.  We also offer holistic education & protocols to people, to teach how to get healthy using solely natural means.  From the simplest of diseases to the most complex, we can help.  Our contact information is available on the contact us page.

Facebook Educational Group:  https://www.facebook.com/groups/12foru/
***As per FDA gudelines:  None of these products are intended to treat, diagnose, treat, or cure disease and are intended as dietary supplements only.