DESICCATED Freeze Dried LIVER Grass Fed Undefatted New Zealand Beef Liver Great Source of Iron B12 Folate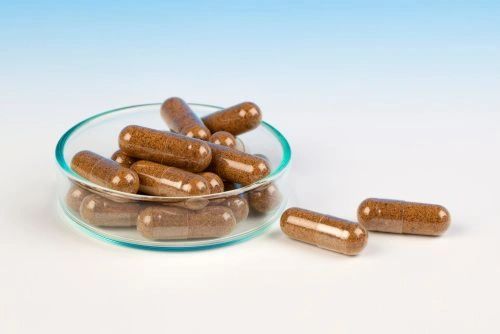 ITEM LISTED FOR YOUR CONVENIENCE AND IS NOT PRODUCED BY 12FORU.
Rich in protein, iron and other nutrients

Desiccated Liver is 100% grass-fed beef liver sourced only from healthy, happy, cattle who graze exclusively on rapidly growing green pastures. Beef liver is nature's traditional superfood because it is so incredibly nutrient dense. Desiccated Liver provides high quality protein and amino acids, as well as vitamin A, B vitamins, and a unique and plentiful supply of highly digestible iron.

Great source of naturally occurring:  Iron, B12, Vitamin A, Folate, and many others

Poss

ible health benefits include... Promote Overall Health, Boost Energy, Boost the Immune System, Boost Metabolism, Improve Digestion, Improve Respiratory Strength & Maintain Healthy Cholesterol

Recommended serving is: 2-3 tablets daily

INGREDIENTS:  New Zealand Bovine Beef Liver Undefatted, Gelatin (capsule)
The majority of our herbal tinctures & products are handmade & hand infused.  Blends are recipes developed by a holistic practitioner of 16 years & former Registered Nurse of over 18 years.    Herbs used are either organic or wild harvested.  We are a small home based business committed to quality.  We also offer holistic education & protocols to help people support their health using dietary supplementation.  From the simplest of diseases to the most complex, we can offer support for your health.  Our contact information is available on the contact us page.

Facebook Educational Group:  https://www.facebook.com/groups/12foru/

***As per FDA guidelines:  None of these products are intended to treat, diagnose, treat, or cure disease.