ADRENAL KIT: Tincture, Essential Oil, & Adrenal Caps Anxiety Stress Adrenal fatigue Thyroid insufficiency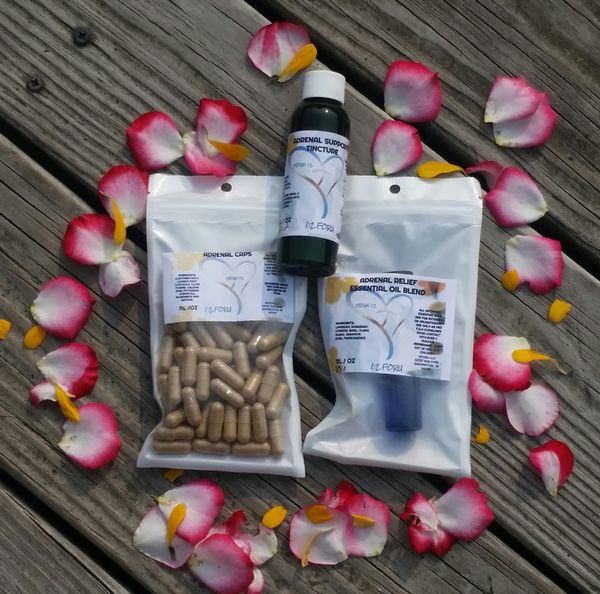 For starting to support the adrenals the adrenal package is recommended, starting maintenance dosing of Lipo C, and utilizing the adrenal cocktail when needed. 
•                    Adrenal Support Kit includes:  Adrenal Essential oil Roller this special blend of essential oils helps to support the adrenals and lower the stress response.  Can be used whenever needed to manage stress response & increase energy levels. Generally this works instantly.  Adrenal Tincture a  special blend of herbs put together to optimally support and help to start to heal the adrenals.  Taken orally and also used externally over the adrenals.  Adrenal caps helps to support and heal the adrenals most notice relief and support with this package the first day of using.   
•                    12foru Lipo C  Liposomal Vitamin C:  A unique recipe of 5 forms of whole food vitamin C powders along with non gmo lecithin & gluten free alcohol and distilled water. This recipe ensures amped up healing by adding in the whole food vitamin c which cannot be found through any other company.
***Note:  Each product is also available individually via 12foru.com
•                    Adrenal Cocktail Recipe:
4 oz coconut water, 1-2 tablespoons

12foru Lipo C or 4 oz citrus juice (both may be used)

¼ teaspoon pink sea salt 

1-2 teaspoons organic sugar (44 minerals) or raw unpasteurized honey.

Optional:   ½ – 1 teaspoon of bee pollen. 
Adrenal cocktail offers balanced minerals and vitamins to support the adrenal in particular but also supports the body & its proper balance of minerals & vitamins in general. 

Two options availabile:

2 oz kit includes:  Adrenal essential oil roller bottle 10 ml, Adrenal Blend tincture 2 oz & Adrenal caps 60 ct.  $57.00 value for $50  SAVE $7
4 oz kit includes:  Adrenal blend essential oil roller bottle 10 ml plus 5 ml travel size, Adrenal Blend tincture 4 oz, & Adrenal Caps 120 caps 
 Adrenal Caps:  $98 value for $85.00   SAVE $13.00
Supplement Facts
Serving Size: 2 Capsules
Servings per Container: 30
Amount Per Serving
% Daily Value

Adrenal (bovine)
340 mg
*

Adrenal Caps™ Proprietary Herb Activators™ 
Eleuthero (Eleutherococcus senticosus) (root), Licorice (Glycyrrhiza glabra) (root), Gotu Kola (Centella asiatica) (aerial), Clove (Syzgium aromaticum) (flower)
430 mg
*
*Daily value not established.
Other Ingredients: Gelatin capsule and 100% natural homeopathic cell salts (calcium phosphate 3x, iron phosphate 3x, potassium phosphate 3x and sodium phosphate 6x).
Adrenal Caps are raw gland concentrates that are freeze-dried to preserve enzyme activity, concentrated, defatted, and toxin free. They also contain Herb Activators and homeopathically prepared nutrients for synergistic effects
***Adrenal Relief Essential Oil Blend is a special blend of oils that help to support the stress response of the adrenals & can be used as needed when symptoms arise. (TAKE THE ADRENAL QUIZ ABOVE TO DETERMINE COMMON SYMPTOMS)
Oils in this blend are: LAVENDER, ROSEMARY, CYPRESS, BASIL, YLANG YLAN, GERANIUM, & FRANKINCENSE in a carrier oil of grapeseed oil.
Lavender: May help with stress relief, short-term memory enhancement, anxiety relief, restlessness, nervousness, and simply to relax . As the adrenals help to control our stress response it is no wonder this is one of the first oils of choice in this blend.  Resource:  Lavender
Rosemary: As a stress reliever / adrenal supporter, rosemary essential oil was shown in a 2007 study to decrease cortisol in the saliva. Excess cortisol has been linked to decreased learning and memory and increased weight gain, as well as blood pressure, cholesterol and heart disease issues. This same study also found that the treatment, which combined inhaling the oils with oil massages, increased the strength of the immune system.   Resource here:  Rosemary
Cypress: It can induce a calming, relaxing and sedative effect on both the mind and body by relieving nervous stress and anxiety. It can also stimulates a happy feeling in case of anger or sadness. This property can be helpful to pacify people who have suffered a serious shock, trauma, or major setback in life.  Resource here: Cypress
Basil: May be used for treating nervous tension, mental fatigue, melancholy, migraines and depression. Due to the calming nature of basil essential oil, it is widely used in aromatherapy. Regularly using this essential oil may provide mental strength and clarity.  Resource here:  Basil
Ylang Ylang: May provide relief from stress and anxiety.  This oil can calm nervous afflictions, stress, anger and anxiety, while inducing a relaxed feeling. Supports the nervous system and may help to repair any damage it may have suffered.  Resource:  YlangYlang
Geranium: Is a tonic for the adrenal cortex which regulates the release of hormones. The oil may help maintain hormonal balance specifically in cases of puberty, premenstrual phases, menopause, sterility and menstrual irregularities. It also provides relief from symptoms of PMS such as fluid retention and breast engorgement. Resource:  Geranium Rose


Frankincense: It may induce a feeling of mental peace, relaxation, satisfaction and spirituality. It also awakens insight, makes you more introspective and may help to lower anxiety, anger and stress.   Resource: Frankincense
**As per FDA guidelines this product is not intended to treat or cure any disease or ailment.  Essential oils are recommended to be used externally as per the FDA**
What is Adrenal support tincture?  ADRENAL SUPPORT TINCTURE IS FORMULATED TO HELP SUPPORT STRESSED ADRENALS & SUPPORT THE STRESS RESPONSE.  12Foru combination of herbs helps to "normalize" which means it adapts to what support the adrenals need.  
Can support healthy adrenal and HPA axis function for optimal cortisol and stress response

May promote calm, balanced energy and sound sleep

Adaptogenic herbs may help support hormonal balance
One of the keys to maintaining balance in the body during periods of stress is to support healthy function in your adrenal glands.* These tiny but important glands produce hormones such as cortisol and adrenaline that affect almost every part of your body, impact how you think and feel, and keep you going when you experience stress. Stress easily depletes your adrenal reserves, resulting in possible adrenal fatigue.* Not only does this produce unexplained tiredness, but also can noticeably affect blood sugar, immune function, mood, PMS, menopause, and sleep, among other things. For example, adrenal fatigue can alter nighttime cortisol levels, making it difficult for you to get a good night's sleep. Supporting healthy cortisol levels at night could result in more restful sleep, better energy in the morning & recharged adrenals.   Healthy function of the adrenal glands  promotes sound sleep, good energy levels and healthy hormone levels during and after menopause.
INGREDIENTS: LICORICE, ELEUTHERO, ASHWAGANDHA, FRANKINCENSE RESIN & MACA infused into Distilled Water & Grain Alcohol
The majority of our herbal tinctures & products are handmade & hand infused.  Blends are recipes developed by a holistic practitioner of 16 years & former Registered Nurse of over 18 years.    Herbs used are either organic or wild harvested.  We are a small home based business committed to quality.  We also offer holistic education & protocols to help people support their health using dietary supplementation.  From the simplest of diseases to the most complex, we can offer support for your health.  Our contact information is available on the contact us page.

Unguru Educational Group:  Membership Level Check Out – UnGuru (unguruyourlife.com)

***As per FDA gudelines:  None of these products are intended to treat, diagnose, treat, or cure disease.