ADRENAL RELIEF CAPS Support Adrenals Decrease Stress Response Anxiety Thyroid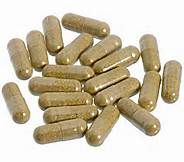 ITEM LISTED FOR YOUR CONVENIENCE AND IS NOT PRODUCED BY 12FORU.
Adrenal Caps:
Supplement Facts
Serving Size: 2 Capsules
Servings per Container: 30
Amount Per Serving
% Daily Value

Adrenal (bovine)
340 mg
*

Adrenal Caps™ Proprietary Herb Activators™ 
Eleuthero (Eleutherococcus senticosus) (root), Licorice (Glycyrrhiza glabra) (root), Gotu Kola (Centella asiatica) (aerial), Clove (Syzgium aromaticum) (flower)
430 mg
*
*Daily value not established.
Other Ingredients: Gelatin capsule and 100% natural homeopathic cell salts (calcium phosphate 3x, iron phosphate 3x, potassium phosphate 3x and sodium phosphate 6x).
Adrenal Caps are raw gland concentrates that are freeze-dried to preserve enzyme activity, concentrated, defatted, and toxin free. They also contain Herb Activators and homeopathically prepared nutrients for synergistic effects
Helps to support the adrenals and decrease exaggerated stress response.
Comes in 60  90 or 120 ct
The majority of our herbal tinctures & products are handmade & hand infused.  Blends are recipes developed by a holistic practitioner of 16 years & former Registered Nurse of over 18 years.    Herbs used are either organic or wild harvested.  We are a small home based business committed to quality.  We also offer holistic education & protocols to help people support their health using dietary supplementation.  From the simplest of diseases to the most complex, we can offer support for your health.  Our contact information is available on the contact us page.

Facebook Educational Group:  https://www.facebook.com/groups/12foru/

***As per FDA gudelines:  None of these products are intended to treat, diagnose, treat, or cure disease.